HiLu (ヒビルー Hibirū) is a fanon pair between Blue Pegasus Mage, Hibiki Lates and Fairy Tail Mage, Lucy Heartfilia.
About Lucy and Hibiki
Edit
Hibiki Lates
Edit

Hibiki Lates (ヒビキ・レイティス Hibiki Reitisu), also known as the Hundred Night Hibiki, is one of the Mages who belongs to the Blue Pegasus Guild's team, The Trimens.
Hibiki is a slim young man of average height with spiky, somewhat messy brownish blond hair framing his face. He has dark eyes and noticeably long eyelashes. He's considered handsome by most girls, many of them being willing to join Blue Pegasus just to be near him.
Hibiki initially wore a dark, double-breasted suit with a pair of distinctive light lines circling each sleeve and lower leg and Blue Pegasus' symbol on its left shoulder, over a pinstriped blue shirt, closed around the neck by a darker tie, and polished dark dress shoes. Shortly after the beginning of the Oración Seis arc, he forsook his jacket and tie, at the same time leaving his shirt hanging untucked over his pants, gaining a much more casual look.
In X791, Hibiki switched to a dark vest, adorned by a pair of light wings pointing outwards over the chest, together with a light, plain shirt. He's not shown wearing a tie anymore, but retains his dark pants and shoes.
Like the rest of the Trimens, Hibiki behaves like a typical womanizer in that he usually charms up to any female (regardless of the age) he meets for the first time ever; often with little to no shame, even if accomplices of that woman are there to watch. Nevertheless, he is capable of becoming serious when he wants to be; he also possesses some level of will power, having resisted Nirvana's effect for a time before passing out, though he notes to himself that Lucy's bond with Celestial Spirits is what truly saved him, afterwards. He is also quite a gentlemen towards others, as he is very polite and typically addresses others with honorifics. He is apparently more perceptive and knowledgeable than he lets on, and because of this, he was the only member of his team whom Bob entrusted with the information regarding Nirvana's true capabilities.

Lucy Heartfilia
Edit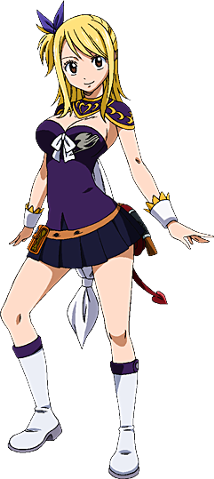 Lucy Heartfilia (ルーシィ・ハートフィリア Rūshi Hātofiria) is a Mage of the Fairy Tail Guild, wherein she is a member of Team Natsu.
Lucy has brown eyes and shoulder length blonde hair that is usually tied by ribbons in a variety of colors in a small ponytail to the right side of her head with the rest of the hair loose. However, in the year X791 she appears to keep her hair up more often in pigtails. She is buxom, and has a curvaceous body. Her (presumed) measurements are: bust, 91 cm; waist, 59 cm; and hip, 88 cm (36 in, 24 in, 35 in). These measurements were later revealed to be slightly different, with the breasts being two centimeters less, and the others one less. In X792 (which her age is 25), her hair is considerably longer, and she keeps it all in a side ponytail.
Her pink Fairy Tail stamp is located at the back of her right hand. Additionally, Lucy does not consistently wear the same outfit. However, she always has a belt that, along with keeping her skirt up, holds her Celestial Spirit keys and a whip with a heart-shaped end. She also wears black, leather high heeled boots. She also bears a striking resemblance to her mother.
Lucy takes exceptional pride in her appearance and is very confident in her sex appeal, often exuding a certain amount of vanity. Despite this superficial attitude, she is a clever, kind, and genuinely caring person. Lucy is passionate for literature and is in the process of writing her own novel about her adventures with Fairy Tail although she does not like telling anyone about it. Aside from her interest in writing and reading prose, she also likes shopping, cooking and assertive men. Her favorite colors are blue and pink She is a member of the Heartfilia family, once one of the wealthiest and most influential conglomerate families in the country of Fiore. However, due to her estranged relationship with her father and the death of her mother, Layla Heartfilia, she left home to follow her own path, which displays an ambition for independence.
Lucy is very kind to her Celestial Spirits, and refuses to utilize them as shields or think of them as such. She fights alongside her Spirits and treats them as friends, unlike several other Celestial Spirit Mages, who view them as mere tools and objects. Lucy cares greatly for her Spirits and will also go to great lengths to give them happiness, even at the cost of her life. Despite technically being an owner of the Spirits, she refuses to be addressed as such, and instead prefers to be called their friend. Although, Lucy is, in most cases, cowardly and easily frightened, she has no problems with fighting and would happily stand up to danger, even if she ends up getting hurt, for her friends and guild. While her powers are normally not as overwhelming as her teammates, Lucy has proven to be a capable combatant herself, often using her cleverness to her advantage, and thinking outside the box during battle. She has eventually inherited Natsu's stubbornness and refusal to give up, even when all the odds are against her favor.
Lucy usually freaks out at her guildmate's antics. Unlike most of her friends, she does not get very excited about fighting and is not quick to resort to violence as the solution. However, she does admit that being around her guildmates is really fun. Being a Celestial Mage, Lucy always keeps her promises. She gives her all for the sake of her guild and friends.

Hibiki's History
Edit
Hibiki is a long-standing member of the Blue Pegasus guild, the length of his membership goes so far back that Master Bob entrusts him with important information and considers him his right hand man. He is said to be the reason why so many women join the guild in the first place. At one point, Hibiki was the lover of Karen Lilica, but their relationship ended when she was murdered while on a mission by Angel of Oración Seis. Hibiki apparently never got over her death, but doesn't let it interfere with his work.

Lucy's History
Edit
Lucy was born into the once extremely wealthy and powerful Heartfilia family. Her father and mother were originally part of a merchants' guild called 'Love & Lucky' where the two met; they decided to become independent when Lucy's mother, Layla, became pregnant. They chose her name when they noticed that the sign for the guild was missing the letter "K", and instead read 'Love & Lucy'; it made an impression on them, so they decided to name their daughter after it.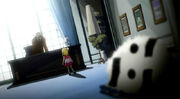 Back in her home, Lucy shared a good relationship with the staff in the estate as well as, presumably, her mother, until she passed away when Lucy was around the age of ten in the year X777. Lucy became withdrawn and depressed after her mother's death while her father was overly obsessed with his business and money and eventually, he had neglected his daughter, which eventually led her to run away from home just over a year before the beginning of the story.
Relationship
Edit
Oración Seis Arc
Edit
Hibiki and his fellow guild mates appear and Lucy notes Hibiki's handsome appearance, even comparing him to other men in Fairy Tail.[1]
Later, Hibiki chooses to stay with Lucy and an injured Erza Scarlet, saying that it would be impossible for him to leave two women behind.[2]
Hibiki, carrying Wendy, look for the rest of the Allied Forces along with Lucy, Happy and Carla. They are approached by Angel, who is disguised as Gray Fullbuster. Angel attacks Lucy, but is blocked by Hibiki. Angel later reveals herself to be a Stellar Spirit Mage and reveals the powers of her Spirits the twins Gemini. She transforms into Lucy and uncovers her cleavage, much to everyone's shock. Lucy battles Angel, but Hibiki is unable to fight due to an injury. Hibiki transfers info of Urano Metria to Lucy with his magic and faints out of sheer exhaustion. However, his power enables Lucy the ability to defeat Angel.[3]
Grand Magic Games Arc
Edit
When Lucy's turn to fight comes, Hibiki and the rest of the Trimens watch her battle. As Lucy prepares to cast Urano Metria, Hibiki stares in awe and expresses happiness over the fact Lucy was able to master the spell.[4]
References
Edit